/
Newsroom
Follow Henry Schein on
Feature Story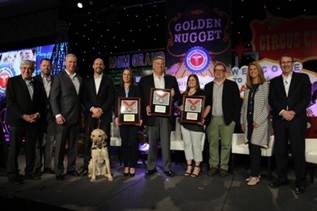 Henry Schein Awards Henry Schein Cares Gold Medal to Guiding Eyes for the Blind for Excellence in Expanding Access to Care
Henry Schein, Inc. announced that Guiding Eyes for the Blind (https://www.guidingeyes.org/)-a Yorktown Heights, New York-based humanitarian organization-has been awarded the gold medal in the Animal Health category of the second annual Henry Schein Cares Medal (http://www.hscaresfoundation.org/us-en/sites/HSCaresFoundation/HSC-Medal.asp) program. The program honors organizations that demonstrate excellence in expanding access to care for the underserved. Stanley M. Bergman, Chairman of the Board and Chief Executive Officer of Henry Schein, presented Guiding Eyes for the Blind with the gold medal at the company's national animal health sales meeting yesterday in Las Vegas.
Guiding Eyes for the Blind was recognized for its commitment to providing guide dogs to people with vision loss. It fulfills this mission by working with volunteer puppy raisers to provide guide dogs-in-training with basic obedience and social skills, followed by a minimum of five months of formal training with a professional instructor. Upon graduation, each dog is placed with its human partner, having learned the skills needed to provide greater independence to a person with vision loss.
An independent panel of judges selected Guiding Eyes for the Blind as this year's gold medalist from a field that also included First Coast No More Homeless Pets (http://www.fcnmhp.org/) of Jacksonville, Florida (silver medalist) and Animal Care Centers of NYC (http://www.nycacc.org/) in New York City (bronze medalist). Each medalist receives a cash award in the following amounts: $15,000 for gold, $10,000 for silver, and $5,000 for bronze, through the support of the Henry Schein Cares Foundation, Inc. In addition to the cash awards, each medalist will receive $10,000 worth of product from Henry Schein, Inc.
"Guiding Eyes for the Blind service dogs provide their human partners with something greater than just navigational assistance; they offer companionship, protection, and a stronger sense of independence," said Mr. Bergman. "This organization's commitment to the health of animals and the wellbeing of people in need makes it the perfect recipient for this year's gold medal. We congratulate Guiding Eyes for the Blind and its fellow medalists, First Coast No More Homeless Pets and Animal Care Centers of NYC, for all they do on behalf of animal health."
Guiding Eyes for the Blind has been providing professionally trained guide dogs to blind and visually impaired people since 1956, and has graduated more than 7,000 guide dog teams since opening its doors. The organization's model of breeding, training, and matching dogs-which comes at no cost to its clients-is recognized by the International Guide Dog Federation for its success.